After the official announcement of the establishment of the International Society of Regenerative Medicine and Wound Repair in the afternoon of February 27th, US local time, Mr. Xu Peng, President of MEBO International and the founder and president of ISRMWR, attended the first symposium of International Society of Regenerative Medicine and Wound Repair held in Beijing on March 26th,2018.
This symposium brought together experts from the world of regenerative science, doctors and people from all walks of life to discuss the new life project --regenerative medical technology.
Professors and medical experts from various fields have delivered important academic speeches on regenerative medical technology and wound repair. Dr. John Gillini, an associate professor of surgery at Harvard Medical School and director of the BIDMC Podiatry Department, presented the guests with the pathogenesis of diabetes ulcers and the treatment method, analyzed the reason of foot ulcer and explained the prevention measures and treatment effects from pathological and microbiological examinations in order to reduce the amputation rate.
Doctor Chen Yongchong, Director of the Department of Surgery, Beijing Nanyuan Hospital and the Standing Committee Member of the Burning Committee of the Chinese Association of Integrative Medicine, explained the new application of MEBT/MEBO regenerative medicine technology in the field of malignant tumors, demonstrated the characteristics and principle of regenerative medicine through case display, and illustrated the outstanding advantages and potential of MEBT/MEBO regeneration technology in this field.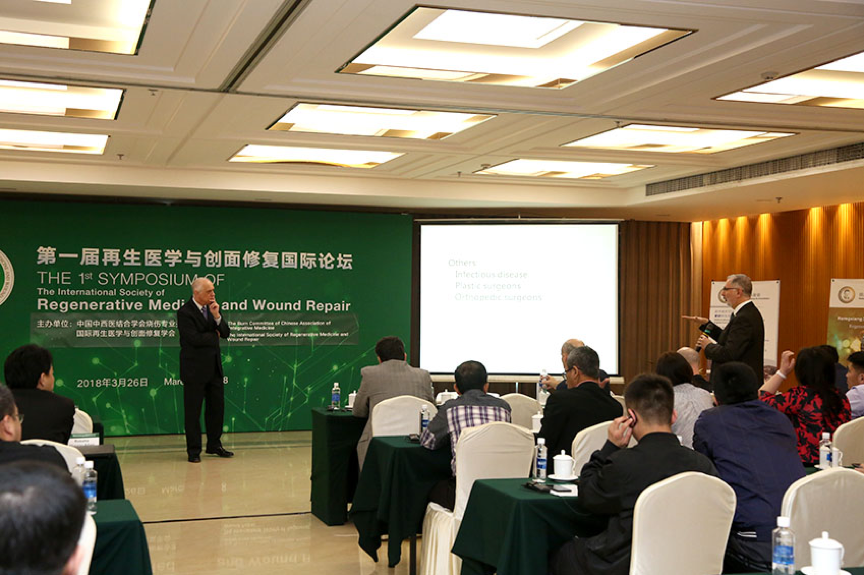 In the Q&A session after doctors' speech, experts and audience discussed relative questions and exchanged ideas, which pushed the conference at its climax and delivered a successful ending.
The successful convening of this symposium has injected new academic vitality into the development of regenerative medicine, especially in the development of diabetic foot treatment, and has also opened a new course for the global development of regenerative medical technology. Regenerative medical technology will leverage the effect of this symposium to launch the world's regenerative medicine campaign, promote the world's regenerative medical technology revolution, and spread the fruit of regenerative medicine to the world.